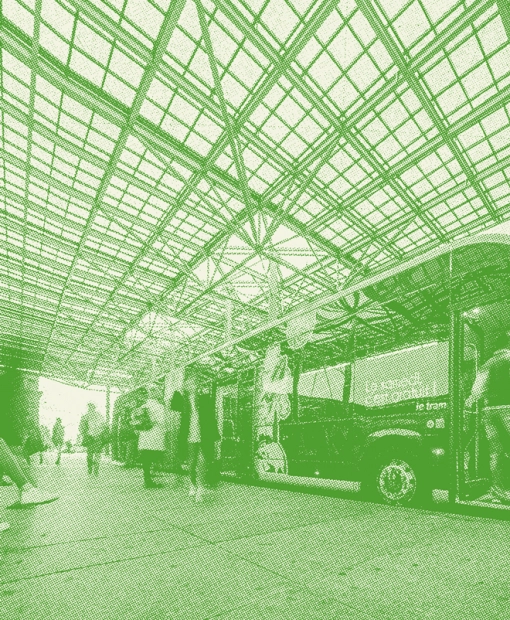 The first large-scale BIM GEM
Building Information Modelling (BIM) is a concept used to create digital 3D models of buildings that can display a full range of features including everything from the type of boiler to the position of windows and wiring. The term BIM GEM is used when these building models, dubbed "digital twins", are used for asset management, operations and maintenance, known as "Gestion de patrimoine, Exploitation & Maintenance" (GEM) or "Asset Management, Operations & Maintenance" in France. BIM GEM provides a single platform through which to access all of these features, giving all relevant parties, such as engineers, energy managers and building managers a full array of data in real time.
The digital twins built for BIM GEM display data on building operations and the movement of occupants using smart sensors installed in key areas. The SNCF Gares & Connexions project is unique in its scope: the three partners are collectively creating a platform that marks a world first by bringing together digital twins for some 122 stations. The initiative could potentially be rolled out in all 3,000 stations across France…
Effective co-construction!
SNCF Gares & Connexions: project sponsor
In charge of the management, operation and development of...
In charge of the management, operation and development of France's 3,000 stations, SNCF Gares & Connexions is committed to constantly improving the quality of operations, inventing new services and modernising…
Dalkia: expert in energy and performance improvements for buildings
Dalkia develops renewable and recovered energy solutions and...
Dalkia develops renewable and recovered energy solutions and improves energy efficiency to help its clients pursue their energy transition and digital transformation . The company has already developed BIM by Dalkia, a…
Stereograph: expert in 3D imaging and modelling
3D software and image specialist, Stereograph is the company...
3D software and image specialist, Stereograph is the company behind Teia, the first BIM GEM web solution capable of using the BIM model in operations while making it smart and connected.
Marlène Dolveck, how did this project come about ? What sort of improvements will it usher in for stations and their users ?
Sylvie Jéhanno, what is new about this BIM GEM project ? What innovations will it bring to the market ?
Manuel Gomes, what are the technological challenges? In what way does this new tool represent a revolution?
Schedule for the project
2020

Prototypes and trials in two stations: Nîmes Pont-du-Gard and Toulouse Matabiau
Creation of first two digital twins

2021

System deployment at 10 stations in Brittany: Auray, Guingamp, Saint-Brieuc, Lorient, Vannes, Saint-Malo, Quimper, Rennes, Morlaix and Brest

2022 to 2024

Deployment at 110 more stations throughout France
Dalkia and BIM: background
Dalkia has been using BIM GEM for several years, along with other digital solutions such as its Dalkia Energy Savings Center (DESC) to promote Smart buildings: buildings that are green, intelligent and connected.
Since 2019, Dalkia has been developing its own BIM system under the name "BIM by Dalkia".
Dalkia uses BIM with clients in the UK: Royal Birmingham Conservatoire and shopping centres including 10 Hammersmith Grove and 70 Mark Lane in London.
Since 2014, Europe has been encouraging the use of digital technology in construction. In 2019, a French national scheme called "Plan BIM 2022" replaced the Digital Transition in Construction Plan (Plan Transition Numérique dans le Bâtiment, or PTNB) to mobilise and support the building industry and give professionals the specific tools required to meet their digital needs.