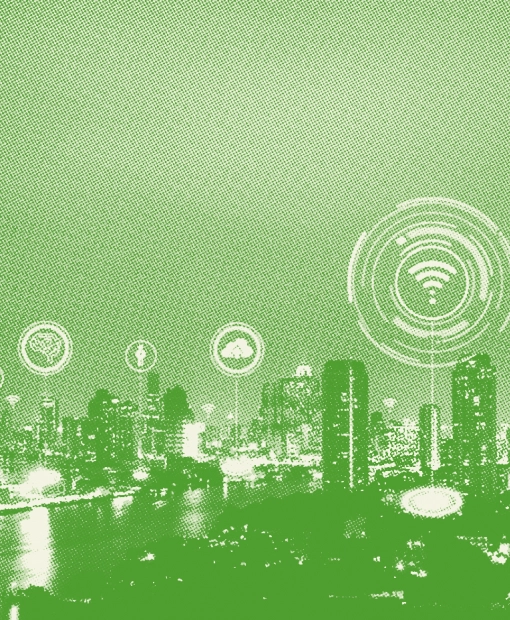 What are smart cities?
Smart grids, smart buildings, smart factories, smart lighting, smart homes… Not so long ago, words like these felt like something straight out of a science fiction book. Today, some still feel a little foreign, yet at the same time everything about our lives has become "smart". And despite the doubts to which the concept sometimes gives rise, it has our best interests at heart! Two fundamental principles are central to this burgeoning trend: ecology and connectivity, allowing us to anticipate our needs and meet them swiftly, reliably and sustainably.
Cities are no exception. The smart city concept is increasingly being rolled out around the world in step with structural changes in areas such as: managing energy, monitoring water and air quality, and collecting waste – areas in which smart technology has enabled a vast array of significant advances. "Energy providers will play a leading role in turning urban environments into smart cites that are connected and energy efficient," says Sylvie Jéhanno1, Chairwoman and CEO of Dalkia. "Achieving these goals tomorrow requires a paradigm shift today: it involves ramping up decentralised power generation alongside centralised policies to develop local energy sources, create short-loop grids (electricity, gas and heating) and tailor solutions to real needs."
The challenge for local authorities lies in offering a more self-sufficient model that is resilient and attractive in order to rise to the significant challenge of climate imbalance while improving quality of life for everyone – residents, visitors, workers and companies. To meet these targets, local authorities are relying on new technologies and increasingly in-depth data analysis using solutions such as Building Information Modelling (BIM) and digital twins, which are a crucial part of designing, building and managing smart, sustainable cities. It is no longer a matter of simply gathering data. As Ms Jéhanno2 explains, the challenge also lies in "sorting that information, structuring it and extracting smart data to enable informed decision-making". Even the data are now smart!
However, this urban transformation is about much more than just a race to innovate. Although they cover less than 2% of the Earth's surface, cities produce more than 60% of CO2 emissions, not to mention other greenhouse gases. As a result, there is a pressing need to change the way they are designed. As far as we are concerned, there is no longer any room for doubt. We are already helping our clients to manage their consumption by producing and distributing renewable and recovered energy sources, supporting energy planning and optimising usage. In rising to the new challenges our clients bring to us, we continue to innovate to make the most of local energy sources and connect them using new technologies – all with a view to promoting sustainable energy performance to build the city of the future.
Dalkia's smart city vision
We believe building the city of tomorrow means connecting people to technology and digital solutions. That involves bringing together a number of different concepts to make urban environments more inclusive, effective and sustainable, to meet the needs of the present without compromising future resources. To that end, we have made an unwavering commitment in five key areas of everyday action:
A people-centric approach: end users are our number-one priority. We process an endless array of data and interact with local stakeholders to facilitate decision-making and create new services for residents.
Decarbonisation: we aim to unlock energy savings . We curb the use of fossil fuels and harness the power of clean, renewable, local sources such as geothermal, biomass, biogas and recovered energy.
Energy management: we believe in energy performance. We connect your buildings to our DESC to stay a step ahead on maintenance, adjustments and improvements while scheduling work by technicians.
Solidarity: We believe in "working for and working with! We ensure access to heating as an essential service, we help to tackle energy poverty and we promote local jobs.
Sustainable performance: we are committed to long-term performance. We provide a guarantee to meet the goals we set together through a range of practical, innovative contract solutions from design to operation. Our energy performance contracts are a cornerstone of this approach.
Dalkia pioneers smart thermal grids in France
Sustainable cities need to cope with spikes in energy demand. Smart thermal grids can collect and analyse key data about a given network to optimise the balance between available energy supply and user demand in real time. That means anticipating user behaviour and avoiding energy loss. "Nothing is wasted: we recover, recycle and pool our resources," says Céline Lorrain, Dalkia's head of sales. "Naturally, this involves digital technology but above all it means a diverse energy mix that makes the most of local energy sources to meet demand." The Smart grid also makes it possible to choose the right energy at the right time: solar, biomass, biogas, geothermal, marine energy, recovered energy sources... and more.
Owing to changing concerns and the advent of digital solutions, the traditional role of heating networks – generating and supplying heat to a given area – has changed into a new model. There are a lot of available energy sources that are hard to tap. Renewable and recovered energy sources like waste heat, solar, biomass and cogeneration are forcing networks to become more flexible to incorporate and pool them for new purposes, such as electric cars. Thanks to their storage capabilities and self-consumption solutions, heating networks have become a full-blown part of the drive to manage energy consumption for a wider scale. Herein lies the challenge of "smart territories": creating a smart environment to offer new services and combining electricity, gas and thermal systems into a smart energy grid to benefit users.