Our solutions for industry: our expertise, your peace of mind
More flexible and competitive, less reliant on fossil fuels... To stay in the race, your site constantly needs to adapt and reinvent itself. The French recovery plan and funding to promote energy efficiency in industry are an opportunity... But perhaps you don't know where to start? Why not let us handle your energy transition while you focus on your core business? Dalkia will take care of the rest!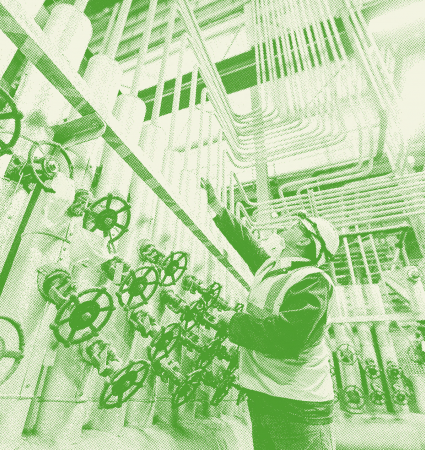 Our services
The energy transition is on everyone's mind. Yet when it comes to taking action, people don't always know where to start. Which is understandable, because the challenge demands real expertise. Fortunately, we've been growing that expertise for over 80 years! Whatever your industry (steel, food, pharmaceuticals, etc.) or the size of your company, we undoubtedly have the solution you need!
Our energy performance contracts for industry will help you successfully put your plan into action. In everything from design to operation, including the supply of renewable energy along the way, our experts understand everything about the challenges you face. They will work with you to pinpoint your needs and boost the performance of your facilities, with guaranteed results, through a receptive, client-oriented approach. And you can have that in writing!
Our energy efficiency solutions for industry empower you to choose excellence while keeping a rein on your budget. Above and beyond the skills of a dedicated team on the ground, you will benefit from the full extent of Dalkia's digital and human intelligence. A winning combination, whatever the challenge! You can count on having our people within easy reach or even assigned to your site, backed by our customer relations centre. Available 24/7, we will always be there when you need us!
You can also rely on our digital solutions to optimise the energy needed to run your manufacturing processes and cover your consumption. Our technicians will carry out remote work on your installations and optimise operations using our applications and connected devices. Our expertise and our innovative solutions will propel your site into the future of industry!
~ 15
%
potential energy savings with Écosolution. It all counts!
Enhanced energy efficiency and performance
Our goal is simple: ensure you a smooth energy transition! We cover every aspect of the energy value chain, with a comprehensive range of solutions that give you integrated services and streamlined management. We make everything easier! We work with you every step of the way to meet your specific needs:
An audit of your installations and review of possible solutions, including available funding
Design and build
Energy purchasing and management
Facilities management and maintenance
Major repairs and retrofits
Energy efficiency projects
Testimonials

To go further
Your industry is unique. Our bespoke solutions bring you state-of-the-art expertise and above all tailored support to help you adapt to challenges in a seamless yet specific manner. Interested?
Our multi-technical performance solutions
Why not consume less and better... by doing better with less? By adapting services to meet your needs, we meet your...
Artificial intelligence for energy efficiency
Nowadays, the industrial sector consumes nearly a quarter of France's energy. In addition to its in-depth expertise...
Scroll to continue